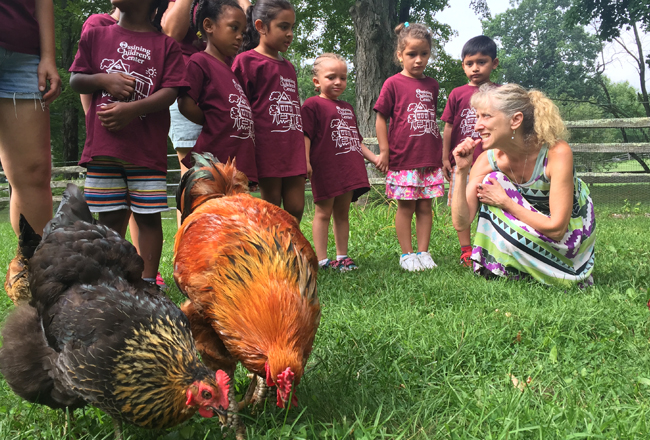 Nonprofit helps children find 'Something Good' in nature – Westfair Communications
Source: Nonprofit helps children find 'Something Good' in nature – Westfair Communications
But for Barbara Sarbin, the best educational space can be found in your own backyard, with the great outdoors as your classroom and Mother Earth as your teacher.
"Our goal is to educate children both on how to live sustainably and in harmony with nature," said Sarbin, director of educational programs of Ossining-based Something Good in the World.
Something Good in the World is a nonprofit organization that provides a number of farm-based educational programs focused on integrating learning and the outdoor environment.
"This is not a school, it is a school of thought," Sarbin said. "These are supplemental programs."
The organization offers a variety of these outdoor programs, from summer camps where students plant and harvest gardens to after-school classes that use all-natural materials to create pieces of artwork. Lessons on choosing healthy sweeteners involve taste testing and even tapping trees to collect sap and make maple syrup.
"It's 100 percent hands-on," she said. "Everything we do is experiential."
Something Good in the World calls Kitchawan Farm in Ossining its home, where the organization operates the Children's Peaceful Garden, an outdoor play space where students plant and maintain a garden of their own creation. The garden also features a bee sanctuary, a pond and constructed wetlands and a chicken coop.
"Kitchawan Farm is very much a demonstration area for us," she said.
The farm is also home to an EnviraPod, an off-grid mobile education trailer complete with solar panels, composting toilet and a rainwater catchment system that demonstrates how to live with a zero-carbon footprint indoors.
"It seemed like a disconnect to teach children all about how to farm organically outdoors, but live wastefully indoors," she said.
The nonprofit works in partnership with a number of schools in Westchester County.
"There are children in need everywhere, not just from inner cities," she said.
At Lakeland Copper Beech Middle School in Yorktown Heights, the organization gives its seventh-grade consumer science class a firsthand look at the origins of their food by traveling to gardens and farms.
"The teachers recognize the need to get them out in the field," she said. "It can't just be a video or a textbook or a test."
Another program allows students from the Harlem Children's Zone to travel to Glynwood Farm in Cold Spring to learn about the origins of animal products such as butter, cheese and wool. Something Good in the World also runs similar weekly or monthly programs for teenagers who live in area shelters.
"When we first start, a lot of the concepts are foreign or seem weird to them, but by the end, they are passionate about what's possible," she said.
Sarbin also runs supplemental educational programs for homeschoolers, which is one of the largest components of the organization.
"I've been working with homeschoolers since 1998, so they are now grown-ups," she said. "The ones I started with are now out of college and in the field and many of them chose environmental directions for their work. That for me is a huge confirmation because that was their choice to do that."
Sarbin started her work with experiential learning in nature in the late-1990s while she was employed as a naturalist at Teatown Lake Reservation in Ossining.
"Children always told me they think better in nature," Sarbin said. "Any form of learning was enhanced by integrating it with experiential, hands-on activities in nature."
In 2000, she created the first Children's Peaceful Garden at Manitoga Nature Center in Garrison. The organization then moved its facilities to Hilltop Hanover Farm in 2005, where it operated as a Westchester County farm partner and ran public programs seven days per week for nearly a decade.
"We were really at the forefront of this movement, and proud of that collaborative endeavor," she said.
But when a new county administration changed its motives, Sarbin said the organization's lease was not renewed.
"Necessity is the mother of invention," she said. "What it did for us actually was really broaden everybody's understanding of how many of these farms need support and how many of them have the same goals, and we could expose children to a much greater vision."
Since then, programs have been hosted by area farms, including Hemlock Hill Farm in Cortlandt, Faraway Farm Alpacas in Yorktown Heights and Sugar Hill Farm in Pine Plains. The organization also enlists the help of educators, consultants and experts in various fields.
"Farmers are just delighted to take some time out of their day to show a child how to pull a carrot out of the ground," Sarbin said.
The organization's work has not gone unnoticed. Something Good in the World was recently awarded a grant by the Jane Goodall Institute and Sarbin was chosen as a volunteer consultant for the organization's environmental and humanitarian youth program.
In her new role, Sarbin will assist educators nationwide in creating their own outdoor learning spaces, a task that recently took her to a low-performing school district in Hawaii.
"We are consulting with teachers around the country at the moment to help them with their challenges in their gardens," she said, adding that some of these challenges include gangs, vandalism and bullying.
Sarbin said these outdoor experiences are essential for children because the future of the planet rests on their shoulders.
"They're the future policy makers. They're the future voters. They are the people who will decide how things happen," she said. "So if they learn at a very young age that there's a great deal of power in how they think, or about tendencies that we have now and how we treat the environment and nature, then that will bode well for the future."